==================
A Caveat and Affiliates
First off, a little caveat: within my articles you will find affiliate links, meaning if you buy them, I get a small commission. Your cost is not affected. In addition, I am an Amazon Associate and I earn from qualifying purchases on Amazon.
And yes, if I say that I recommend a product here, it means I truly believe it is a good product. I refuse to recommend any product that I have not researched and believe to be a good value.
Even better, I provide you with a very clear picture of the product, it's use, and the probable value.
Earning your trust is important to me. I run this website myself and the commissions and donations help support the site.
Sound reasonable and fair enough? Let's continue to the article.
==================
List of Essential Equipment Needed to Podcast
Do you know the essential equipment needed to podcast? Before you begin, understand what is necessary. Then select the best you can afford. With a few basics, you can begin. Then, expand your podcast equipment list over time.
You will know better equipment needed to podcast as you get more serious about creating a full podcast studio. We will highlight the audio recording equipment you will need and some stuff you may want to get later.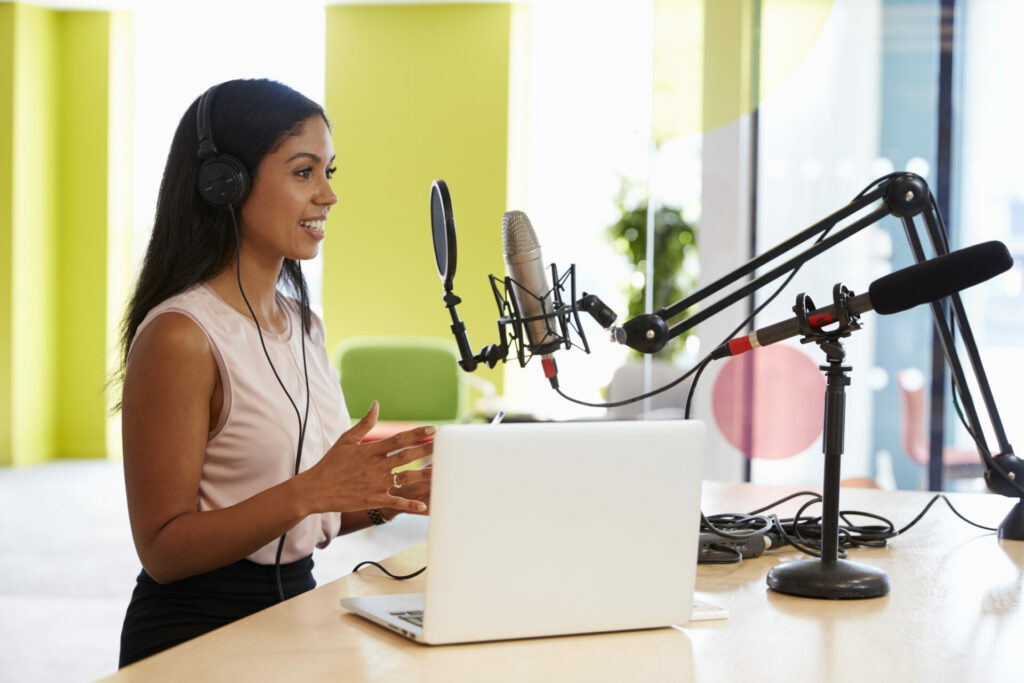 The List of Essential Equipment Needed to Podcast
Let us discuss some pieces of equipment needed to podcast:
Microphone
Pair Of Headphones
Mixer
Laptop
Pop Filter
A Microphone
One of the most critical components of recording a professional-sounding podcast is a good podcast microphone. Still, it cannot be easy at first to navigate the broad range of choices available. However, do not use the built-in microphone on your desktop.
You'll find some microphones that can be used with a USB port when you shop, while others require an XLR port. The advantage of a USB mic is that, without adapters or external equipment, you can record directly to a computer. If you need to register one microphone at your place, USB is quick and straightforward to set up and pleasant.
Here are our best picks:
Audio-Technical AT2020USB+ Cardioid Condenser USB Microphone
This Audio-Technical USB mic has fantastic sound quality and is lightweight and compact enough for travel. Noise from the sides would be minimized by the cardioid pattern, making it ideal for field interviews or recording multiple speakers with different mics.
These microphones are used for podcasting, studio recording, and voice-overs, working well with modern recording tools. It is swift to use this microphone. You plug it into the USB port on your PC or MAC, and it's all set.
Reviewers agree the unit is easy to use and that, even in noisy conditions, the mics do a fine job of filtering out noise. We like: Using only a pair of regular batteries, you get up to 12 hours of continuous recording.
Here is the link: https://cutt.ly/LkvTxue
Blue Yeti USB Mic for Recording & Streaming 
Blue makes a variety of microphones for podcasting, but the Yeti is the most common by far. It is much heavier and larger than other entry-level mics, but still a great choice. One benefit is that the mic has basic controls that can modify microphone gain and recording.
A headphone jack is available on the microphone so that you can hear your audio as you go. Moreover, if you are recording in a room with other people, an instant mute button is perfect.
Here is the link: https://cutt.ly/8kvTm6q
Heil Sound PR 40 Dynamic Cardioid Studio Microphone
The Heil PR-40 is a highly advanced microphone trusted by podcasting, broadcasting, and live sound professionals. The sound captured by the PR-40 is top-notch, but setting up and optimizing the capacity would take a little more experience. Moreover, the cardioid side offers excellent noise rejection from the rear and sides.
Here is the link: https://cutt.ly/AkvTTTO
A Pair of Headphones
Headphones avoid many errors and retakes. At first, it can be strange to hear yourself talking live, but you'll get used to it. Moreover, it would help if you got used to this. For an hour, you don't want to record anything to know something hasn't turned on. Moreover, there has been a loud buzz all the time.
What you want to use for recording is closed-back headphones, and your earbuds are probably not good enough. Since your microphone can pick up the sound, avoid open-back headphones for recording.
Bleed is the most significant thing when considering headphones for tracking your captured audio. Headphone prices differ a lot. However, you usually get what you pay.
Sennheiser is a notable name for proficient sound account hardware. Moreover, because of its premium construction, leather earpads, and breathable headband, this pair of headphones stand out.
If you want a headphone that you would not be afraid to wear at the gym or on a flight, these are excellent headphones to consider. Although we will usually not recommend a "fashion" headphone as a top option for podcasting, these are worth considering for Sennheiser's quality.
Here is the link:  https://cutt.ly/JkvmBR0\
If you're searching for the best closed-back headphones and the price isn't a consideration, get a pair of SRH1540's from Shure. They have a 5 Hz to 25 kHz frequency range and come with straight and coiled cables. They're incredibly comfortable, as well, so you can wear them for hours at a time.
You would probably want to use them with a headphone amplifier, but they are perfectly capable of being used without one. You're not going to be disappointed with these headphones.
Unlike most other headphone designs in the ear studio, the ear cups do not swivel. Moreover, there is a fixed angle to rest against the listener's head for earpads and headbands.
Here is the link:  https://cutt.ly/2kvWckA
Audio-Technica ATH-M50x Professional
In some instances, the Audio-Technica ATH-M50x headphones come with accessories in the case so that you can get the most out of them. You can find the usual suspects in the package, including a soft carrying pocket for when you fly and a quarter-inch to 3.5mm adapter for plugging into equipment such as amplifiers.
Audio-Technical has hit the nail right on the head with these headphones when it comes to construction and design. They are trendy enough to stand out, but not so glamorous that unnecessary attention is attracted to them.
The whole design is plastic, so don't expect anything premium here, but blend the durable plastic with the soft padding for those long recording sessions, and they're comfortable to wear.
Here is the link:  https://cutt.ly/rkvEBsq
A mixer
First and foremost, you do not need a mixer for recording a podcast, unlike a microphone. A mixer can be an excellent accessory to have but is not necessary for all shows. However, it depends on how much time you can put into editing and what mic you are using.
If you intend to get several people on the mic at once or capture various audio types, the key reasons you may want a mixer are.
When buying a mixer, things to consider are the number of channels that it will accept. Moreover, the preamps used, what other equipment it is compatible with, and size and cost, of course.
Behringer Q502USB 5-Channel Mixer
This mixer is an entry-level mixer with a clean, low-noise sound that can easily connect by USB to a device. Instead of faders, the mixer has knobs, which can be a bit trickier and less reliable. It is one of the lowest cost mixers you can get for interviews or other multi-host shows and a perfect starter board.
XENYX mixers are known for having outstanding mic preamp technology, which helps DJs assist with live shows and performances.
The XENYX Q502USB fits with a stereo USB audio interface for direct computer recording of your mix. The recording and editing software necessary to turn your computer device into a home recording studio comes with it. Dedicated knobs change the volume for the central mix and outputs of the phones.
Here is the link:  https://cutt.ly/7kvUaCb
This mixer can accommodate four USB microphones at once. Moreover, it is perfect for podcasters who need many audio lines for a complete XLR mixer but, may not have the economic or technical expertise. The board is unbelievably lightweight and perfect for travel, considering the ten channels and two high-impedance guitar inputs.
The device is strong and flexible, suitable for circumstances in the studio or live show. It's an excellent option to monitor the USB Mix output bypass mixer and EQ (apart from low-cut).
The Allen & Heath ZEDi-8 mixer can track and playback 24-bit/96kHz audio, with Micro USB connectivity. Separate USB playback channel controls allow you to independently blend USB audio with the Main Mix and Aux Mix.
Here is the link:  https://cutt.ly/NkvUWoK
Rode RODECaster Pro Podcast Production
The latest RODECaster Pro is an incredible blender that includes Bluetooth for phone calls, pre-recorded automatic compression, and many other unique features. It can well adapt for professionals or those who are just starting and needing a quick solution. The unit simplifies the technical aspects of podcasts' development so that you can concentrate on producing excellent content.
Moreover, using the world-renowned broadcast-quality audio from the company. It provides a good outlet for quickly getting up and running, recording advanced podcasts in the studio or on the move.
Here is the link:  https://cutt.ly/bkvIKQj
A Laptop
So do you want to take music production or podcasting seriously? You're going to need a decent laptop that can handle anything you throw at it.
There is a fair possibility that you will have multiple programs and tabs open simultaneously, and you will require the capacity to add one additional screen in any event. These use criteria use a lot of RAM and graphics capacity, respectively. If possible, I suggest having at least 16GB of RAM.
A CPU with fast single-core performance is the essential thing for audio processing. This feature will allow you to get your mixes much faster into a single file. Moreover, process effects and chains, among several other advantages, without the CPU having to wait.
Yeah, the Razer Blade is a "gaming" laptop, but that also implies that it is equally well-equipped to handle music production effortlessly.
"The model I suggest is the advanced 15" Razer Blade. The form nature of these PCs is top-notch and naturally diverged from Apple for a valid justification. A black metal chassis, a large touchpad, and top-firing speakers compose certain distinctly Razer design elements. The immediately recognizable three-headed serpent of the Razer logo stands out against the lid's black surfaces.
It has an Intel i7-8750H. They don't install much additional software that ends up slowing down the machine, and they care about speed and performance-my business kind!
Here is the link:  https://cutt.ly/hkvOBD0
The newest edition of Microsoft's category-defining detachable tablet PC is the new Surface Pro 6, but does it make it worth purchasing with a price cut, faster chips, and a new paint job?
It seems to have improved very little from the outside, and that's because the Surface Pro 6 is nearly identical to its predecessor.
All that is say the Surface Pro, either in hand or in a pack, is one of the easiest full-power PCs to bring around. However, only beaten by the smaller Surface Go and handheld tablets, such as the iPad of Apple.
A USB 3.0 port and a Mini DisplayPort locates on the right side, in addition to the Surface Link port. The headphone jack builds on the left side. The microSD card opening can place under the kickstand on the off chance you need to broaden the limit.
Here is the link:  https://cutt.ly/skvPN4K
For most individuals, the best Mac laptop is the 13-inch MacBook Air with Apple's M1 processor. It's more than fast enough for most people to use a computer for things like web surfing, paperwork, and light photo and video editing. Still, the M1 also handles technical work pretty quickly, such as 3D rendering or code compilation. Besides, it has an excellent keyboard and trackpad, a vibrant, high-resolution display, and incredible battery life. MacBook Airs and its battery life are reliable to such an extent that you infrequently need to charge it during the day in the event you would prefer not to.
Here is the link:  https://cutt.ly/skvPN4K
A Pop Filter
What's a pop filter, first of all? It's a material shield that protects the mic from the quick traveling air coming as you talk out of your mouth, triggering impact popping sounds.
A pop filter or windscreen will mitigate or stop plosives dramatically. Place your hand next to your mouth and say "power"-do you feel the "p" air? That's what you're shielding the mic from the air.
These air blasts can send a mic into the red quickly. This feature is undoubtedly a bonus because it can get beyond irritating when you try to concentrate on your presenter's voice. However, and all you hear is disturbing sounds hitting the speaker.
Stedman Proscreen XL Pop Filter
To secure your microphone from unwanted distortions, the Stedman Corporation Proscreen XL skips nylon and other fabrics and uses a proprietary metal material. It is one of the few filters on the market designed to keep digital recording specifications in mind.
A six-inch screen with a rubber bezel around it is fitted with a rubberized clamp on a 13-inch gooseneck that grips the mic stand for a firm fit. It is effortless to wash and clean, which improves filter life and ensures proper cleanliness and hygiene in your recording area.
The mesh makes it possible to go through signals of even high frequencies and yet avoids clipping resulting from the plosives and other hard syllables preceding breath bursts.
Here is the link:  https://cutt.ly/0kvSoTd
"Auphonix's product is a 6" diameter pop filter and has a front and back mesh screen. You will also get an e-book about recording tips and tricks when purchasing this product! If you are starting in the entertainment world, this is a package that will significantly benefit you.
You can gain insight into making the best recordings and how you can better yourself. When you speak or sing, the double layer of mesh guarantees that you will not get any distortion!
There is a 12-month money-back guarantee, but because this product's tightly woven fabric and robust construction can last you a long time, it's unlikely you will need it! It has a double screen, making it excellent for its air, stopping ability, but will not obstruct your speech.

Here is the link: https://cutt.ly/0kvSoTd
Neewer Professional Microphone Pop Filter 
Neewer's pop filter will be the go-to product if you look for a pop filter that can banish the much-dreaded plosive sounds or other hissing alternatives. It's a cheap piece of equipment that will fit any beginner just beginning their recording career.
Neewer makes sure that any sounds you produce are crisp and straightforward if you're talking or singing. When you set it up, the gooseneck adjusts quickly and does not budge. With its professional-looking nature, you can be sure that this pop filter will look at its best next to any vocal microphone.
Here is the link: https://cutt.ly/ekvS9wW
To Summarize
It can get confusing to pick the best podcasting setup, especially if you don't have an audio recording background. You don't know well about the equipment needed for a podcast, we put together three podcast equipment packages to make it simple, based on the number of people you record. If you follow this guide, you will pick the best types of equipment for podcasting.
Read More