==================
A Caveat and Affiliates
First off, a little caveat: within my articles you will find affiliate links, meaning if you buy them, I get a small commission. Your cost is not affected. In addition, I am an Amazon Associate and I earn from qualifying purchases on Amazon.
And yes, if I say that I recommend a product here, it means I truly believe it is a good product. I refuse to recommend any product that I have not researched and believe to be a good value.
Even better, I provide you with a very clear picture of the product, it's use, and the probable value.
Earning your trust is important to me. I run this website myself and the commissions and donations help support the site.
Sound reasonable and fair enough? Let's continue to the article.
==================
Best Desktop Air Purifier Helps Conquer Dust
Dust, dander, pollen, and other airborne particles contaminate our home office space. In addition, they affect your breathing, eyesight, concentration, and overall health. The best desktop air purifier eliminates these contaminants and keeps you breathing fresh, healthy air. If that sounds like something you're interested in, then this free guide is for you.
If you are looking for a desktop air purifier to help alleviate the dust in your office, then look no further. This blog will provide information on how to choose the right purifier and decide what is best for your space.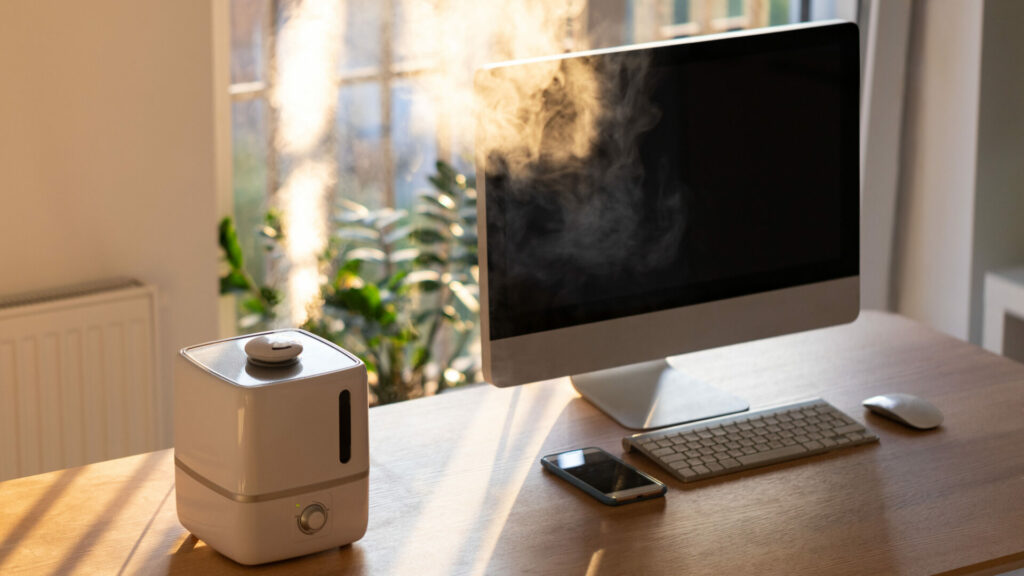 Healthy Air Increases Productivity
Keeping the air quality in your office clean of pollutants can boost productivity. Research shows that enhancing workplace indoor air quality leads to a healthier workforce. Moreover, according to one report, 87 percent of full-time employees worked an average of 8.5 hours every weekday. People with a home-based business often work even more. As a result, if the indoor air in your workspace is polluted, your productivity often suffers significantly.
Finding the right desktop air purifier for your office or home might seem difficult, particularly if you don't know where to begin. With so many choices on the market, finding the best desktop air purifier is challenging.
We've put together a review of the top 5 best desktop air purifiers. In addition, this guide helps you better understand the various types of tabletop purifiers – and helps you narrow down your choices.
What is the best desktop air purifier for your workspace?
Most experts recommend choosing an air purifier with a True HEPA filter, Activated Carbon Filter, and UV-C light for the best results. Dust, allergens, volatile organic compounds, odors, bacteria, and viruses are among the pollutants eliminated by this combination of features. Used properly, they provide much cleaner, healthier air in your workspace.
Buying guide for best desktop air purifier
Several concerns come to mind before purchasing an air purifier for your office desk.
What sort of particulate matter will the air purifier remove?
How many filters does the air purifier have?
Is it going to fit on my desk?
What is the maximum amount of room that the air purifier can clean?
These and many other issues will help you evaluate your options and find an air purifier that meets your needs. This article examines the factors that every consumer should think about before purchasing the best air purifiers for a desk.
Size
Apart from filtration capacity, sizes are another way to decide whether the air purifier is the right match for your workplace. An oversized air purifier may be effective, but it is not ideal for use on your desk. Most often, any desk in your home or office comfortably accommodates a 10-12 inch height air purifier, at most.
Noise Level
Internal fans in air purifiers pull or force air into the filtration device to ensure air contaminants eliminates. Some fans are almost silent, especially when set to the lowest speed. When you pick a higher level, however, the fan speeds up and makes more noise. It often distracts your working or studying. Therefore, noise levels for the best desktop air purifiers should not exceed 30 to 45 decibels without compromising effectiveness.
Activated Carbon Filter
The activated carbon filter component provides the key to eliminating typical workplace odors. While the home office rarely faces office odors from office machinery, food, coworkers, or other uncontrollable sources, you might encounter pet and household odors. Ensure that your home office air purifier has this function. Moreover, an activated carbon filter works by absorbing odors into the filter material, leaving the air you breathe clean and fresh smelling. If odors are a concern, look for a filter that contains the activated carbon filter, too.
Available space
Finding a cleaner that works well and also fits on your desk might seem difficult. Too big and it takes up the desk space you need for other things. Moreover, too small and it underperforms the needed functions. Make sure you check the length and width of an air purifier for your office desk or home office – as well as its coverage – before buying one.
Ionizer
This feature works by destroying contaminants in your immediate area. Rather than trapping toxic particles within a physical filter, an ionizer throws out negatively charged ions that suck them out of the air until they reach you. Moreover, it acts like an air-purifying force field, invisible to the naked eye, but highly effective.
Small desk air purifiers use ionizers to increase air cleaning performance and extend the HEPA filter's life. While not considered essential, it provides a great help and should be considered.
UV-C Light
This feature is what you can look for if you want to reduce the risk of contracting an airborne virus or bacteria at work. Viruses, bacteria, and germs are zapped by UV-C light as they move through the system. It breaks down their DNA, rendering them harmless to your wellbeing.
How to Maximize the Efficiency of Your Desk Air Purifier
Finding the best desktop air purifier is important. However, to get the most out of you need to use it correctly. Always read the manufacturer's instructions. And following instructions also help you get the most out of your new office air purifier.
Place the best Office Air Purifier in a Suitable Location.
Any air purifier needs some breathing room. You can't expect it to work at its best if you cram it into a corner or surround it with clutter. If your air purifier has an ionizer, provide space for it to release the negative ions it discharges into the air.
Also, consider keeping the air purifier as close to your personal breathing space as possible. Ideally, place it at arm's length next to you.
Please don't turn it off.
You might want to use your desk air purifier as a regular blade fan for cooling by turning it on and off during the day. On the other hand, a small air purifier works best when it keeps on all the time. In fact, it performs best when allowed to work continuously.
Each time you turn it off, the air around you becomes more toxic, causing the air purifier to work harder the next time to flush out these pollutants. Remember, today's air purifiers, particularly desktop models, are energy-efficient. As a consequence, leave it on to get the freshest air possible.
Filters need replacing every couple of months, depending on the type of desktop air purifier you purchase. In addition, some air purifiers save you money by only having to be replaced once or twice a year, while others will need to replace more regularly.
Of course, the more dust and contaminants in the air, the more frequent the filtration needs replacing. In any case, you must maintain this so that your air purifier does not get clogged. In fact, a clogged filter performs poorly, if at all.
With these features and instructions in mind, let's move on to the reviews now.
Top 5 best desktop air purifier
1.   Holmes Desktop HEPA Air Purifier
If you're looking for a small and lightweight personal air purifier for your office desk, the Holmes Desktop HEPA Air Purifier is a good choice. It weighs under 6 pounds and is suited for a 10-by-11 space. It may achieve by positioning the filter horizontally or vertically.
Aside from that, the Holmes desk air purifier has three-speed settings to accommodate different conditions by eliminating allergens. These settings are available thanks to their lightweight nature, which allows you to use them regardless of how you set up your cleaner in your cubicle. It is, however, recommended for small rooms up to 109 square feet for the best results.
It looks great in a tiny room and doesn't take up too much space, thanks to its small design. Moreover, this air purifier comes in two colors: black and white to go with any decor.
Pros
Captures dust and harmful pollutants
It helps eliminate household odors
Compatible with several filters
Has 3-speed settings for different conditions
It is easy to clean
It comes with a 3-year warranty
Cons
Larger rooms may not be appropriate.
Some people will find it noisy.
2.   IonPacific ionbox
The IonPacific ionbox is our recommendation for a small room air purifier for your office desk. This system functions as a purifier and as a negative ion generator, removing toxic particles from your atmosphere at the source. Furthermore, if you want a clean environment, this air filtering technology may be the ideal solution.
Furthermore, the USB port makes it incredibly portable, allowing you to take it with you everywhere you go. Then you have the choice of getting clean air not only in your home but also in your car.
A USB cable included in the package, in addition to the dual-voltage USB wall adapter. In most instances, a travel-size appliance comes with a super-short USB cable. Moreover, IonPacific outperforms its rivals once again by supplying you with a 3.6-inch line.
Pros
The USB feature makes it simple to attach to your laptop or car.
Some cleaners require filters, but this one does not.
It is compact and simple to bear, weighing just 4.8 ounces.
Cons
It only comes with a 1-year warranty.
3.   PARTU HEPA Air Purifier
It is the air purifier for you if you want a portable air purifier that fits on your desk; it has a three-stage filtration device and a fragrance sponge. A pre-filter, a HEPA filter, and an activated carbon filter make up the three-stage filtration system. These filters collect dust, smoke, pollen, pet dander smaller than 0.2 microns, and odors when used together.
The air purifier includes a scent sponge in addition to removing toxins from the air. The fragrance sponge can place under the air outlet of the purifier. Furthermore, add a drop of essential oil to allow the fragrance to drift through the air.
When it comes to noise level, this device is practically quiet. The air purifier's noise level ranges from 37 to 60 decibels, according to the manufacturer.
Pros
setting to control volume and speed
Available in a sleek design
It comes with a fragrance sponge
Cons
4.   QUEENTY Desktop Air purifier 
The QUEENTY Desktop Air Cleaner is an air purifier that is ideal for a small office. The oscillating air outfit provides a steady and adequate wind, pure air, and oxygen to your breathing area, which aids in the relief of rhinitis, itchy skin, and asthma symptoms, as well as the beautification of your skin. Moreover, it is like you can visit a SPA without ever leaving your desk.
This product will help relieve the symptoms of dry eyes and are likely to benefit your skin! So, if you've been looking for a product that can assist you in this way, try this.
It provides you with a robust feature, and installation is easy. Because of its small size and portability, it will be easier for you to use. You can read customer reviews to get an idea of the product's reliability and results.
Pros
3-in-1 filter and ionizer
Compact and portable
Consumes less power
easy to use
Cons
Low area coverage
The WSTA Desktop Air Purifier creates a calming environment in your workplace. Many people like the appearance of this filter. With a black accent band, it has a striking hard-maple faux wood finish.
Moreover, the WSTA air purifier comes with a large fan that is not only powerful but also surprisingly quiet, considering the power. It aids in the capture of hair and large particles in the pre-filter by drawing in dirty air. Furthermore, the genuine HEPA filter protects against harmful microscopic particles.
Also, the HEPA filter works in tandem with the coconut shell activated carbon filter to remove chemicals that cause foul odors, maximizing purification. Another advantage of the WSTA Desktop Air Purifier's Anion Generator is that it combats positively charged ions from particles such as bacteria, pet dander, and spores.
In addition, this air purifier is simple to plug in and use, making it a breeze to use. Also, it contains a one-touch blue LED light used as a soft nightlight to help create the ideal atmosphere.
Pros
Efficient and slick design.
Very simple to install
Eco-friendly
Cons
No cons as such
Conclusion
We hope this article helped you select the right desktop air purifier for your workplace, conference room, or home office. in addition, whatever product you choose, we're confident you'll reap the many health benefits of breathing healthier, fresher air while at work.
Read More:
How Dust Affects Your Computer