==================
A Caveat and Affiliates
First off, a little caveat: within my articles you will find affiliate links, meaning if you buy them, I get a small commission. Your cost is not affected. In addition, I am an Amazon Associate and I earn from qualifying purchases on Amazon.
And yes, if I say that I recommend a product here, it means I truly believe it is a good product. I refuse to recommend any product that I have not researched and believe to be a good value.
Even better, I provide you with a very clear picture of the product, it's use, and the probable value.
Earning your trust is important to me. I run this website myself and the commissions and donations help support the site.
Sound reasonable and fair enough? Let's continue to the article.
==================
TOP 10 BEST HEADSETS FOR WORKING AT HOME
Many people have moved to their home offices due to the coronavirus outbreak. Some stuff, including a desk and a chair, is needed when constructing a home office, even a temporary one. However, you may not necessarily think of other things, such as a good pair of headsets.
A headset is an essential piece of equipment for individuals working from home. If you cannot make it into the office, then a headset means you can still effectively interact with your peers. Even when working from home, collaboration software systems such as Microsoft Teams, Slack, and Skype for Business all help you stay connected. The best quality headset allows you to take full advantage of working at home.
Moreover, it should come as no surprise that there are hundreds of items to choose from. That's because so many individuals rely on headsets daily. But how can you be sure that you have selected the best headset for yourself? Last but not least, you'll want to consider a headset with a microphone if you're working at home and taking and making a lot of phone calls.
Since so many different individuals use a headset, we have pushed ourselves to come up with a Top 10 list for all. We have rounded up the ideal headset to suit you, whatever your budget may be. But before we review these top 10 best headsets for the home office, we need to know what features a good headset should have.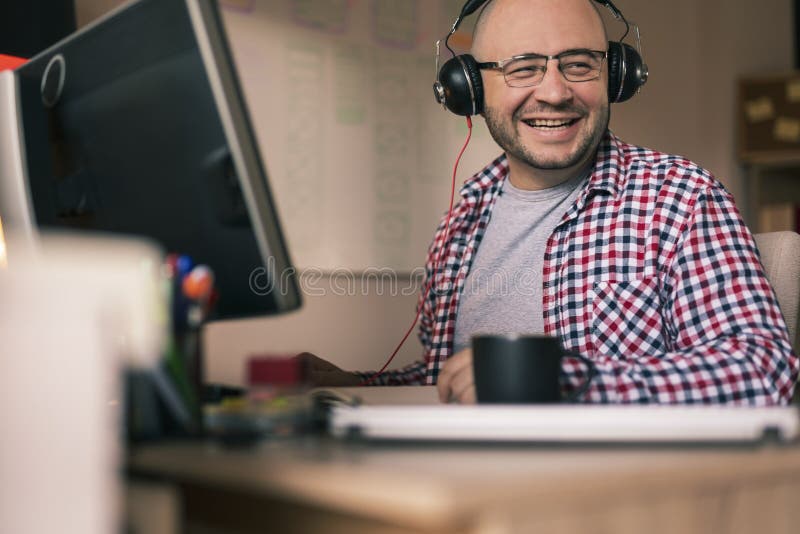 Features of the best headset
Microphone Availability
One of the essential features of any headset for working from home is a reliable microphone.
That is why, when deciding to buy a good headset, you need to try it out and check that it performs as any quality headset microphone should. Such as you will connect via headphones with your colleagues and business partners to sign for instance a contract that's clearly understood.
Total Harmonic Distortion (THD)
When you play your headset at a high volume, the driver's diaphragm cannot work correctly or as quickly as required. This can distort sound, produce cracking noise, or disturbance. All these would affect music, sound, or audio file quality.
Distortions can easily be created by headphones that come with a more significant percentage of Total Harmonic Distortion, or THD. It is necessary, therefore, to look for headphones with low levels of THD.
Sensitivity
The indicator of loudness at a given power level is the sensitivity of the headphones. For example, a headphone with greater sensitivity at one milli-watt power level would sound louder than one with less sensitivity at the same power level. In other words, the audio emitted by the first headphone would be louder. Generally, it would be considered more audible.
Headphones with reduced sensitivity need more power but are considered a more reliable alternative than headphones with greater sensitivity. Regardless of the high level of control they require, they will not harm the driver's device.
Therefore, to get good output sound quality, it is necessary to pair lower-sensitivity headphones with high-power suppliers or devices. On average, for headphones, the sensitivity is 104 dB
Noise Canceling Feature
You do not need to hear any disturbing sound when you talk to your teammates. You can use active and passive noise control to fix this problem. For example, you can use earbuds with a rubber seal or high-quality ear cushions with a full-size headset.
For those who want to hear a crystal-clear sound, a pair of active noise-reduction headphones are is a great solution. However, It's not the safest choice for individuals with vestibular dysfunction.
Product Reviews: Top 10 Best Headsets for Working at Home
So, it's time to review some of the best headsets for working at home available on the market. To add a layer of comfort to life, you can buy one for yourself and also for your loved ones.
All the headsets reviewed below took hours of research work and analyzing reviews from verified buyers. Let's begin:
1- Bose Noise Cancelling Headphones 700
A new design includes improved sound quality, a touch-sensitive gesture pad for playback controls, and even a USB-C charging, all are available for the Bose Noise Cancelling Headphones 700. There's silicone in the foam cushion between the head and the metal headband, and there's more silicone on the top of the headband.
Bose did away with physical buttons to control your music in the 700s, following the modern over-ear headphone design trends. Meanwhile, the front half of the right earcup can detect the taps and swipes of your index finger, and once you master the muscle memory of where to reach, this system works quite well.
There are three buttons on the headphones in total, and two of them don't have any icons or labels of any kind, which I don't mind because when you wear them anyway, you can't see tags. There is only a small Bluetooth logo on the power/Bluetooth pairing button on the right ear cup, so you can tell it apart from the other two when you turn them on.
Bose remains on the cautious end of excellence when it comes to battery life. Just 20 hours, Bose says. I considered this to be reasonably accurate and managed to squeeze out 21 hours of continuous playback.
These headphones, in short, are a joy to use. My overall experience with the Bose Noise Cancelling 700 headphones was fabulous. They're lightweight, simple to use, well-built, and objectively beautiful.
Pros
Best-in-class noise cancellation
Powerful bass depth.
Comfortable.
Cons
Expensive.
Accidental button presses are common
Sculpted audio not for purists.
2- Plantronics Voyager 5200
The Voyager 5200 USB Headset from Plantronics operates in the office for multiple uses, for both calls and music. All-day long, the soft memory foam ear cushions feel comfortable to wear. While most headsets come with one microphone, there are three in this one. Moreover, in loud environments, the mics cancel ambient noise and capture voices effectively for clear calls.
It announces the names of callers and lets you tell them whether to answer or ignore voice calls. Built-in voice commands allow you, with more precision, to dictate text messages and get directions.
The headset has a physical on/off switch on the back and two volume buttons on top that are easy to find and pressable. There is a call button on the boom, as well as a voice order button. The boom swings around, making the headset between the right and left ears fully reversible. And for the best fit, there are three different ear tip sizes.
Pros
Long battery life
Long-range.
Built-in commands for speech.
Cons
The ear hook takes some finesse to fit over the glasses correctly.
3- EPOS | SENNHEISER Adapt 563
The EPOS Adapt 563 headset is ideal for those who work from home because it is a wireless headset and has a Bluetooth link used to connect the headset to your phone.
With more and more critical business being done remotely instead of face-to-face, to ensure that meetings go as smoothly as possible, it is vital to use professional equipment. A discreet and sturdy headset is the Epos Sennheiser Adapt 563, perfect for this new way of working.
A Bluetooth headset with a USB dongle for use with a PC is the Adapt 563 headset provided by Epos. To keep it safe, it comes complete with a soft case. The headset itself is much more discreet, imparting a corporate vibe than the Epos Sennheiser gaming headsets.
For extended periods, I found the headset very comfortable to wear. Instead of being right over the ears, the earcups sit on your ears, which means you can hear what's going on around you. The foam cups have a stylish leatherette finish. The headband is expandable and very sturdy.
Moreover, being a small headset, the buttons are also very tiny, making them a bit fiddly to use. All the time, I found myself pressing the wrong buttons, even turning off the headset by mistake. I'm sure you'd get over this issue with use, however.
Pros
Incredibly lightweight
Adaptive active noise canceling
Up to 30 hours of battery life
Cons
Expensive
Noise cancellation is substantial but not leading class
4- BlueParrott B450-XT
Another addition to the best headset for working at home is the BlueParrott B450-XT. The BlueParrott B450-XT. This Noise Cancelling Bluetooth Headset promises industry-leading sound for boisterous environments. With 96% noise-cancellation for high quality, the Blue Parrott B450-XT filters out background noise. For ease, its Voice Control feature also provides hands-free control.
Its wireless range of up to 300 feet ensures that the headset allows you to walk easily around your office or home. And due to the comfortable, wide ear cushions and padded headband, as well as 24 hours of talk time, you can take calls all day.
Thanks to its flappable microphone, the BlueParrott B450-XT Headset is a mono-on-ear headset that can be worn on either ear. Its mic captures the natural-sounding voice, even in a busy call center. Voices still sound reasonably straightforward and detailed on the other line. It has a continuous battery life of just about 24 hours, and you can even pair it with up to two devices at a time.
All the controls are on the right earpiece. There you can find large up and down volume keys, along with track controls, a customizable BlueParrott button, and a play/pause/call button marked MFC. The boom swings up and tucks to the right earpad.
Pros
Long continuous battery life.
Multi-device and NFC pairing
Cons
Bad noise isolation.
Fit can put pressure on the ear.
5- Jabra Evolve 65 UC Stereo Wireless Bluetooth Headset
The Jabra Evolve 65is a wireless headset that helps you connect with your smartphone while still doing what you need to do. It's a headset that is ideally lightweight. I know that some of them are heavy, but this one is a lot lighter than the others.
With comfort and mic clarity in mind, several Bluetooth headsets are made, but too few models concentrate on audio output. For individuals who need profound call clarity, the new Evolve2 65 from Jabra is a powerful, well-designed headset. Moreover, it also provides excellent stereo audio for listening to music.
The Evolve2 65 would look very much like a pair of supra-aural (on-ear) headphones, available in black, grey, or white. The earpads are lined with leather-like perforated material, behind which are 40 mm drivers that deliver a 20 Hz to 20 kHz frequency range.
For docking the headset, the power/pairing switch is near the charging connections on the lower part of the frame. When you're on a call, an outer ring on the right ear houses a status light that shines bright. So, colleagues know not to interrupt. Overall, it is the best headset for office work.
Pros
Comfortable style
Microsoft Teams app compliant, with dedicated onboard controls
Outstanding mic clarity
Cons
Playing audio between computers and phones paired at the same time can become complicated.
Expensive
6- Microsoft Surface Headphones 2
This Microsoft Surface headset 2 is the best headset for working from home. A very fabulous little piece of technology, it is ideal for those on the go who want to keep their earbuds handy. The combination of minor interface tweaks, enhanced battery life, upgraded Bluetooth, and the new lower price helps make it more recommendable.
These are very trendy as they come in some relatively light colors, but I must admit I prefer them in black. What's more, the outstanding features of this product are that they are shockproof and water-resistant.
They also generate low-frequency sounds that you can use while communicating at a distance from other individuals. There is also a volume switch for these headphones to change the sound, so you do not have a ringing sound.
The slim profile is what I like most about it. The headphones themselves are also small. And the ear cups can now rotate 180 degrees so that you can lie them flat inside the case. Or, when not in use, wear them flat around your neck.
Pros
Comfortable
Superb controls
Bluetooth Solid Connectivity
Comfortable to wear
USB-C charging
Cons
Sort of voluminous to wear
Touch-sensitive earcups may be programmed accidentally.
No hinges for folding
7- Sony WH-1000XM4
Among the easiest ones to use is the Sony WH-1000XM4 headset for working from home. It is a perfect addition to any headset collection for working from home. The first thing about this headset that you can note is the way it makes you feel.
This headset instantly provides you with a feeling of comfort. Since it is not too large or too small, it makes you feel good wearing it. In your head, it's just the right match, and that's what you need.
Easily among the best noise-canceling headphones out there, the Sony WH-1000XM4 headphones will cut out the vast majority of the noise around you. Plus, they sound perfect for music, podcasts, and anything else that you may want to listen to every day.
These headsets are also elegant and stylish. While the microphone isn't the highest-quality microphone out there, it's still not bad for the occasional phone call and should be enough.
Pros
Support for two simultaneous Bluetooth connections
30 hours of battery life
Intuitive app-based controls
Cons
360° Reality Audio is still limited
Still high price
No IP rating
8- Sennheiser Momentum 3
If you are searching for some of the best-sounding wireless headphones out there, then the Sennheiser Momentum 3 headsets are your best bets. These headphones are comfortable enough to wear throughout the day. Additionally,  this headset produces a natural bass response, a decent number of mids, and a lot of clarity.
Sennheiser provided authentic leather for the headband and plush covering the memory foam ear cups for two simultaneous Bluetooth connections. Matte steel arms extend from the headband and feature a sliding fit-adjustment mechanism. The ear cups rotate minimally, helping them to rest comfortably.
Besides this, Sennheiser Voice Clarity's natural listening environment and noise-canceling microphone improve speech intelligibility. Moreover, the in-line call control unit allows for smooth call management. When not in use, the bendable boom arm discreetly folds into the headband, providing a more streamlined look.
Last but not least, an integrated Bluetooth tracker and Tile support, ensure security. Via the third-party Tile app, you can find the whereabouts of your lost Sennheiser. These features inevitably take a toll on battery life, which is 17 hours.
Pros
Energetic, rhythmic presentation
Convenient usability features
Effective noise cancellation
Outstanding mic clarity
Comfortable
Superb controls
Cons
Cost
No in-line mic/remote on 3.5mm cable
9-Mpow 071 USB Headset
This headset is going to prove to be the best one for home office work. It's comfortable to wear, and it generates some pretty decent-quality audio. Though I'd probably never use it to produce my voiceovers. But it's certainly up to the challenge of making presentations and video tutorials. And it also has some properties for noise cancellation, which helps get some pretty decent-sounding audio.
Also, you can remove the 5mm audio jack cable from the control box, which gives you an additional connection option for phones and tablets. Or, to work with a PC, you can use a USB plug with a control box. The cord of the long headset provides versatility for moving around. Color-wise, you get a black, silver, white, and blue range.
This Mpow headset provides good sound quality for a budget-friendly price. The design is simple but effective, with a 3.5 mm jack for the telephone and tablet connection and a USB plug for the device connection.
Moreover, thanks to the foam-padded memory ear cushions and flexible steel slider headband, the fit is comfortable. Depending on your head and ear shape, it can be close, so remove the headphones every one to two hours if that is the case.
Pros
Comfortable style
Microsoft Teams app compliant, with dedicated onboard controls
Outstanding mic clarity
Long continuous battery life.
Multi-device and NFC pairing
Cons
Bad noise isolation.
Fit can put pressure on the ear.
 10- Logitech Zone Wireless Bluetooth Headset
One of the most flexible headsets on this list is the Logitech Zone Wireless Bluetooth Headset. Especially for an on-ear headphone, I found it convenient, and it seemed perfect for making calls, with a sidetone feature that allows you to hear your voice inside the headset, so you don't talk too loudly during conversations.
Zone Wireless is planned for all-day, everyday office use. The silicone-padded headband is lightweight and offers such a comfortable fit that you might forget you're wearing a high-performance headset with just the right clamping power. The soft leatherette earpads are breathable and cushioned so that your ears don't get sticky.
The Wireless Zone is built to move quickly from your phone to your device, as you might expect from an open-office headphone (via Bluetooth). In the middle of the ear cup, there's a button to answer or end calls. It will play and pause as well while you listen to music. By lifting the microphone boom, you can silence the headset.
Pros
Above-average noise cancellation.
Includes USB receiver for computer-based audio.
Exceptionally comfortable
Outstanding mic clarity
Long continuous battery life.
Cons
Audio and mic intelligibility isn't as crisp as they could be.
Noise cancellation can affect audio playback.
Conclusion:
Choosing the right headset to meet your homework needs comes down to finding the components that make them stand out from the rest. This is easier said than done, as most of the words used to describe these items are rarely self-evident and challenging to understand.
Fortunately, to save you the trouble of endless googling to find the best headset, this guide was created. No matter what your preference might be, if you select a microphone headset from our list, you will buy a product that will give you value for your money in sound and flexibility of quality.
Our ten best headsets are recommended for allowing you to have a crisp and transparent conversation with your receiver while canceling the distracting noise of an office environment. Your Bluetooth system also allows you the freedom to roam around the work area so that you can grab the files and details you need to close your sale and seal the deal.
Read More: