==================
A Caveat and Affiliates
First off, a little caveat: within my articles you will find affiliate links, meaning if you buy them, I get a small commission. Your cost is not affected. In addition, I am an Amazon Associate and I earn from qualifying purchases on Amazon.
And yes, if I say that I recommend a product here, it means I truly believe it is a good product. I refuse to recommend any product that I have not researched and believe to be a good value.
Even better, I provide you with a very clear picture of the product, it's use, and the probable value.
Earning your trust is important to me. I run this website myself and the commissions and donations help support the site.
Sound reasonable and fair enough? Let's continue to the article.
==================
Best Room Size Air Purifiers for Home or Office
Did you know that indoor air can be 5x more polluted than outdoor air? The problem is, many of us spend the majority of our time indoors. We work at home or in an office all day and come home to relax on the couch with a movie. When we sleep, we're still inside! That is why I will be showing you the best room-size air purifier.
The solution is to purify your indoor air with a room-size air purifier. These appliances are designed for large spaces like offices or living rooms so they remove pollutants such as dust, pollen, smoke particles, and pet dander from the entire area.
In this post, I'll give you 7 great options for room size air purifiers including:
Many harmful airborne particles can filter out by buying one of the best room-sized air purifiers and installing it in your home, apartment, or maybe on your computer desk. It is especially true if you have allergies, have pet dogs, live with a smoker, or want to improve your breathing.
No system can entirely remove air contaminants or replace clean outdoor air. Still, the best air purifiers provide help with respiratory health. A good air purifier will make a significant difference in your life. To be considered perfect, however, it must be strong enough to clean the air in a large living room or playroom, quiet and dark enough for you to sleep near it in a bedroom, and affordable enough to have many in your house.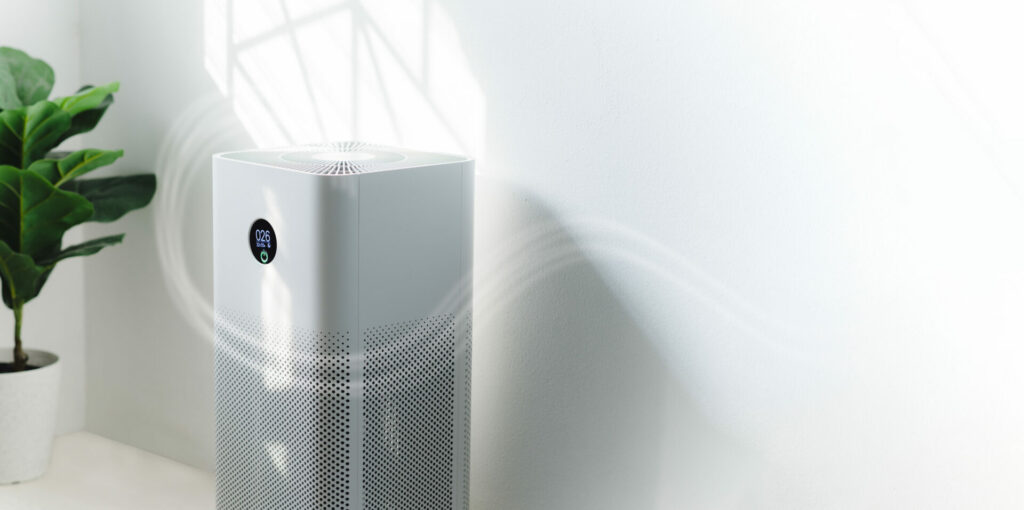 First, Some Basic FAQ's
Before you decide which air purifier to buy and use, consider whether you should own one and if so, some basic facts.
Are air purifiers effective?
Used properly, these appliances clean the air by removing particles with filters and fans before circulating the filtered air back into the room. They help you breathe better by literally cleaning the air. As a result, people with allergies or asthma can benefit from air purifiers with High-Efficiency Particulate Air (HEPA) filters, which remove fine particles and common allergens from the air they breathe. However, while air purifiers effectively remove dust, smoke, and pollen, their capacity to remove gases is minimal.
Is it possible to operate an air purifier 24 hours a day, seven days a week?
Actually, your air purifier works best when left on all the time. Using air purifiers continuously keeps the air quality at its best, even though it is constantly changing. Innovative technology in some air purifiers reads air quality in real-time and automatically adjusts settings to save energy when purification isn't needed.
What is the best location for an air purifier?
You'll probably want an air purifier in your bedroom, living room, kitchen, office room, or on your computer desktop. These are high-traffic areas, and an air purifier in your kitchen, even helps remove smoke and odors from cooking.
Ideally, you choose the size based on the size of the room. When comparing air purifiers, check out the recommended room size, listed as square feet. Measure your room length and width in feet. Multiply these two values. The result is the approximate square footage.
While you may use a unit larger than recommended.
What to Look for When Buying the best room-size Air Purifier

There are a few things to consider when looking for suitable room-sized air purifiers for your home or office.
1.  Filter replacement costs.
Pleated filters should replace every six to twelve months, and activated carbon filters every three months. As a consequence, always opt for the least expensive air purifier for your room. Furthermore, most of the units we looked at had a light that indicated when the filter needed to be changed.
2.  Certifications.
There are a few logos on the package that you can check for as a certification. The Energy Star logo is the first. To be reliable for purchasing, it must run 24 hours a day, seven days a week. Cleaners that have earned the Energy Star label use 40% less energy than regular ones.
3.  Noise.
Internal fans drag air through a set of filters in most air purifiers. Some of these fans are almost silent, mainly when set to low speeds. When you turn them on, they make a humming sound. Before you buy, you might be able to find out how many decibels a model operates on the packaging or website listing. If you're going to use the best room-size air purifier in a bedroom or a baby's room, you'll want something quiet even at higher speeds.
4.  Indicator of Filter Change
It's easy to lose track of how long the air purifier has been on, making it difficult to know when the filter needs to replace. A filter shift monitor helps determine when the filter needs to return.
5.  Energy Consumption
The easiest way to use an air purifier is to have it on all of the time, leading to some unexpected energy bills. The more energy used to operate an air purifier, the more costly it is to use. Most air purifiers will have an eco-mode or be Energy Star certified to minimize running costs. Air purifiers are generally energy-efficient, costing less than $60 a year on average. However, we'll let you know if any of the air purifiers we've tested are too energy-intensive!
How to Maximize the Benefits of Your Air Purifier?
1.  Clean regularly.
Clean your air purifier's filter regularly to get the best out of it. As a general rule, replace the plunge filter every six to 12 months and the carbon filter every three months.
2.  Place it wisely.
It should be kept in the space where you spend the most amount of time. These devices can be heavy and clunky to carry around, so you can buy a unit for each room if you want an air purifier in several rooms. Ensure that the air clearer is put in a position that nothing can impede airflow—for example, away from curtains.
3.  Keep your air purifier on all the time.
As we have mentioned above, keeping your air purifier on all the time saves energy. When you're not in the room, we recommend setting the unit too high and turning it down to low when you're nearby. Alternatively, purchase an air purifier that is approved for a broader region so that you can operate it at a low speed and still get good results.
4.  Cover all windows and doors.
It would help if you kept the windows and doors in the space where you're using the air purifier closed in addition to running it continuously. The device can actively suck in unfiltered air if a window or door is left open. The air purifier will recycle the same amount of air until most airborne particles are filtered out with the windows and doors closed. If you need to leave the room for some reason, shut the door behind you.
Our Top 7 Choices for Best Room Size Air Purifiers
(scroll down for details)
Coway AP-1512HH Mighty Air Purifier
Austin Air Health Mate Standard Air Purifier
Honeywell HPA300 True HEPA Air Purifier
Levoit Air Purifier
Pure Enrichment Pure Zone Air Purifier
Dyson Pure Hot + Cool Air Purifier
Blue air Blue Pure 411 Air Purifier for Home
Top 7 Best Room Size Air Purifiers
1)  Coway AP-1512HH Mighty Air Purifier
Our top on the list of best room-size air purifiers is Coway AP-1512HH. For a good reason, the Coway AP-1512 HH Mighty is rated among the market's best air purifiers. It's also one of the fastest-selling brands in both online and physical stores.
It has such a reasonable price for how well it operates, and it's one of the quieter devices of its size. It also has most of the features we'd like in an air purifier, such as a programmable timer, several fan speeds, and a filter indicator light. As a consequence, it's currently difficult to find in stock. The Coway is one of the least costly air purifiers of its caliber to maintain yearly because new filters are relatively inexpensive, and energy costs are minimal.
Finally, the Coway AP-1512 HH Mighty has a pleasing appearance. It comes in a sleek black or white finish. It is relatively small compared to many other cleaners of comparable efficiency. The Coway Mighty is one of the few cleaners with an ionizing mechanism that we considered. Although the efficacy and protection of ion filters are debatable, you can disable this function.
Pros
Exceptional performance
Quiet
Low-profile design
Cons
Questionable customer support
Here is the link: https://cutt.ly/NxISDyA
2)  Honeywell HPA300 True HEPA Air Purifier
Honeywell air purifiers generally have positive feedback, and the HPA300 is an excellent unit at a competitive price. It has one of the highest CADR scores of the units we recommend for smoke, dust, and pollen, and it can filter relatively large rooms effectively. It also has four speeds, a configurable timer, and a control center light that can adjust.
The HPA300 is also mobile, allowing you to switch it between rooms with ease. At faster altitudes, the HPA300 is also quieter than some other systems. You can use Turbo mode to get the most out of your machine. The Honeywell HPA300's fan maximizes in Turbo mode, helping in cases of severe allergies. Use the HPA300 in your larger room. It is rated for up to 465 sq. ft.
The Honeywell HPA300's control buttons, like those on other standard air purifiers, are located on the top. LED light indicators are available for profiler and True HEPA filter replacement. The exhaust air grill, which is typical of a classic air purifier, is also located here.
The Honeywell HPA300 can fall short when it comes to filtering replacement and maintenance. The prefilter and true HEPA filter are both removable and must replace every six to twelve months. ACCORDING TO CRITICS, the HEPA filter is three filters, and getting them all in the right place can be difficult.
Pros
Amazing performance
Lots of fan power
Cons
Many experiences of lousy smell
Here is the link: https://cutt.ly/OxIXflq
3)  Levoit Air Purifier
The Levoit LV-H132 is an Amazon bestseller and the cheapest cleaner on our list. Examiners reported that it is doing decent price work, in particular with pet odors. It is also sleek and easy to drive around your house with a lightweight, compact, and portable computer.
You should not expect whistles and bells at that price—and there are no whistles in the Levoit LV-H132. No programmable timer is available, and the light indicator filter on the system reminds you to check but doesn't tell you when it is time to replace the filters.
All three months to a year, all three filters must replace them since the prefilter cannot wash regularly. Reviewers report that in higher conditions, the Levoit LV-H132 is very noisy, so sensitive sleepers may have difficulties using their bedrooms' equipment.
The front and back of the LV-H132 are the same because of their cylindrical configuration. There is a grill to take in and an outlet to inhale the air at the top of Levoit LV-H132. Although the Levoit LV-H132 design is small and compact, the airflow to the air purifier is very restricted since it is from the ground.
Pros
Fantastic performance
Well-built for the price
Slightly quiet
Cons
Do not automatically shut down.
Here is the link: https://cutt.ly/OxINOai
4)  Pure Enrichment Pure Zone Air Purifier
The True Purifier Pure Enrichment Pure Zone pairs use an accurate UV-C filter to eliminate dirty particles and smells. With a five-year guarantee and excellent customer service, this cleaner endures. The button on top of the device can turn on and off. It addresses viruses and bacteria. The light gives the air a remarkable freshness.
That is the true brilliance of the Pure Zone. On its low setting, it's almost quiet. It emits a very low-pitched hum on medium and high, which is certainly not an unpleasant one, and it can often even be an excellent white noise. This further increases their use as a small bedroom unit since you will probably sleep near the machine.
Average user experience is possible in the Pure Zone. Setup is brisk, and you can quickly dial in your favorite settings by simply using a control panel. We also liked the automatic off-timer offered by this simple unit. While you live, it's good to know that your purifier shuts down, even if you forget about doing it yourself. The Pure Zone is also at 7.78 lb., relatively light, and can quickly move by the integrated handle.
Pros
Quiet operation
5-year warranty
Sleep mode
Cons
Here is the link: https://cutt.ly/NxI946r
6)  Dyson Pure Hot + Cool Air Purifier
Another one for the best room size air purifier for home is Dyson pure. The Dyson Pure Hot + Cool is one of the most technologically advanced air purifiers and space heaters on the market today. A less costly unit asking model could be a better choice if you're just interested in dedicated space heaters or air purifiers. On the other hand, Dyson is a one-of-a-kind market and a worthy purchase if you want a device with heating, fan, air purification, and smartphone capabilities.
If the heating mode has been in use for more than nine hours, the unit will automatically shut off, just if you fail to turn it off before going to bed or leaving home. You can also use the software to monitor it from afar, which adds to your mind's peace.
Particulate matter, volatile organic compounds, nitrogen dioxide (NO2), and oxidizing gases are the four major air contaminants detected by Dyson. The four classes include the majority of household irritants such as pollen, smoke, burning candles, odors for cooking, perfumes, cleaning items, and fuel combustion. Dyson removes these contaminants from the air quickly. The built-in screen of the device allows you to see the action in real-time.
Pros
Premium design
Relatively quiet
Dual functions
Cons
Here is the link: https://cutt.ly/XxOpgu8
7)  Blue air Blue Pure 411 Air Purifier for Home
The Blueair Blue Pure 411 is a straightforward, simple purifier with an intelligent design and good value. Particle and carbon filtration prevents odors, pet dander, airborne allergens, and airborne gaseous contaminants, among other things. The Blue Pure has different colored prefilter sleeves for the outside of the unit so that it can fit into almost any color palette, and its single-button interface is as intuitive as it comes, and it will work well in a 170 square-foot space.
The unit is also light, with a noise level that is in the middle of the pack. Aside from the noise, Blue Pure's only fundamental flaw is the lack of extra features such as timer keys. There are just one quick button and an air outlet grille at the top of Blue Pure 411. This one-click accompanied by a simple LED light serves as a fan speed indicator and a filter replacement indicator.
Pros
Small and minimal design
Low power consumption
Cons
Here is the link: https://cutt.ly/exOfGAm
Conclusion
Well, that is it for the list of the best room size air purifier. The air purifier keeps your indoor air clean and healthy. There are hundreds of air purifiers on the market, and deciding which one is best for your room size, health needs, and budget can be complex. However, our above-mentioned best room size air purifier will surely help you select the right one for your room.
Read More
Computer Keyboard Cleaning Tips