==================
A Caveat and Affiliates
First off, a little caveat: within my articles you will find affiliate links, meaning if you buy them, I get a small commission. Your cost is not affected. In addition, I am an Amazon Associate and I earn from qualifying purchases on Amazon.
And yes, if I say that I recommend a product here, it means I truly believe it is a good product. I refuse to recommend any product that I have not researched and believe to be a good value.
Even better, I provide you with a very clear picture of the product, it's use, and the probable value.
Earning your trust is important to me. I run this website myself and the commissions and donations help support the site.
Sound reasonable and fair enough? Let's continue to the article.
==================
Good blog writing tips
Do you want to write a fantastic blog post? Do you want to know our good blog writing tips to create a blog post that converts? If you've answered yes, this post is perfect for you.
The internet is overwhelmed with tutorials that can help you to write a good blog post. They can unfold useful blog writing tips, what you need to do, and what not to do. Reading through them allows you to learn how to craft a compelling blog post that converts. They might even help you write a blog post that earns you some adoring fans.
However, if your dreams are bigger than that, if you want to know the secrets of good blog writing to craft a blog post that wins you a legion of fans, you need something more than a run-of-the-mill tutorial.
So, what you need is an ultimate guide.
In this comprehensive and step-by-step guide, I will share useful blog writing tips used by pro writers to craft a spellbinding blog post adored by thousands of fans. I will unfold the secrets of crafting irresistible headings, captivating introductions, thought-provoking advice, and motivational endings.
This post will also discuss how professionals refine and polish their content once they are finished writing them. These are tricks bloggers would happily pay real money to learn, but it won't cost you anything except a few minutes of your valuable time.
So, let's get started!
What is a Blog?
Before going any further, you should know what a blog post is. Blog posts are a great way to publish insights, stories, and thoughts on your website about any topic. They help you boost traffic, spread brand awareness, credibility, and generate revenue.
Nowadays, blog posts are the most effective way to share instructions, analysis, criticism, product information, and much more. Though there are many popular blog types, the most common ones are;
Ho-to blog post.
List-based blog post.
What is a blog post?
The infographic post.
What Builds a Good Blog Post?
Before you start crafting a blog post, there are some questions that you should ask yourself first.
Why would your readers keep reading your entire blog post?
What makes your readers come back for more?
Writing a good blog post is both fun and educational. Blog posts should answer questions and help the audience resolve the challenges they are expecting – and that is what you have to do so in your blog – in an interesting way.
Note: A good blog post should be interesting, fun-to-read, and provides educational content to the readers.
It isn't enough to just address your reader's questions; you also have to provide actionable steps a well. For instance, the introduction section of your blog post should lure the reader in and make them want to read through your entire post.
Using relevant examples in your blog posts is a great way to keep your audience engaged and excited about what you have to say.
So, what are some excellent blog writing tips?
Top 10 Good blog writing tips: A Definite Guide
Here are some good blog writing tips that you will want to follow while writing a compelling blog post.
1. Understand Your Readers
Before you start writing a blog post, ensure that you have a clearer understanding of your target audience. This is also essential when you are creating a buyer persona. Consider the details you have about your buyer persona and their interests while coming up with an interesting topic for your blog post.
For example, if your audience is millennials looking to start their business, you don't necessarily have to provide the details about social media as most of them already have that. You might, however, want to provide them information about how to maintain their social media approach. That kind of tweaking makes your content more compelling about the topics your audience is looking for.
Here is how you can know your audience;
· Think about your ideal audience
Describe your ideal audience. Think about your reader's needs, wants, and dreams. Find out what your audience seeks. Make them laugh and be conscious of who's reading your blog post. Also, think about what YOU would like to read as a young entrepreneur, a new mommy, or a freshman.o
Put all the thoughts and feelings into it and attract those who are reading your blog. Your audience will feel connected, which will make them feel special and want to come back to read more.
· Create Reader Personas
Authors create book characters, directors create movie characters, and bloggers create reader personas. Creating a reader persona is an effective and best description of who your ideal audience is and their essential traits.
You can craft a reader persona using characteristics, such as locations, topics of interest, age, search patterns, etc. Moreover, while creating a reader persona, ask yourself;
WHAT do the readers like to read on your blog?
WHY are they visiting your blog to read it?
WHEN do they most visit your blog?
WHERE do they found your posts mostly?
Knowing the answers to these particular questions will help you better understand your audience and craft content to make them dwell on your blog.
· Read Through Comments on your Blog
There's a reason why every website ever creates features a commenting system. Readers who feel the urge to voice their opinion or appreciation for your blog must have a section for that, and the comments box is the perfect way for that.
If you haven't been reading through the comments your blog has been getting, it's high time for you to start reading them. Comments tell you the exact feelings and opinions of your readers. There's no better way to know your blog audience.
2. Pick a Topic for your First Blog
The second step for good blog writing is to pick a topic for your first blog post. You can choose a general topic to start. For instance, if you are a company that offers IT services, your post might be about the benefits of using reliable IT services and their importance.
Here is how you can pick an interesting topic for your blog post;
· Be Confident About What You're Going to Write
Be confident and believe in yourself that what you are writing is great, and you are totally satisfied with your blog post. If you have confidence and knowledge about a specific topic, you can surely give your 100% to that blog post.
· Research
The next step, when choosing a topic for your blog post is research. Researching before you start writing a blog post is critical. Your audience is smart enough, and readers know that whether you're providing accurate information or not. So, pick the topics that interest you, and you can research on that topic.
· Advice and Tips
Make sure to choose topics relevant to your niche and provide your readers with advice and tips. Write on topics which can provide information and actionable solution. It would be best to divide your blog post into two or three posts and interlink all of them. It will provide you different sub-topics to write on, and your audience will get advice and tips about that specific topic.
3. Craft a Heading that Readers Can't Resist
One of the most common mistakes many blog writers make is writing a blog post before the headlines or post title.
If your blog doesn't include a post title, it means you aren't providing a roadmap to your readers to follow. Due to this, instead of going in a straight direction, your blog post goes in multiple directions, leaving your readers feeling confused, dizzy, and disoriented.
If you want to craft a compelling blog post full of clarity, conciseness, and convection, take your time to craft a captivating headline that sets a direction, seduce readers, and grab their attention. Your blog's headlines will define your map, your writing navigation, enabling you to determine which road to choose and which to avoid so that your audience can reach their intended destination easily and efficiently without any confusion.
4. Write a Captivating Introduction
Once you picked an interesting topic for your blog, it's time for you to write an introduction. Your only aim, however, when writing an introduction is to grab your reader's attention. If the first few lines of your blog post's introduction failed to grab the reader's attention, they would quickly stop reading your post.
You can use a number of ways to make the introduction section more compelling. Use a joke, tell an exciting story, or grab the reader's attention with an interesting statistic or fact. After that, outline the purpose of your blog and explain how it will address the issues the reader is experiencing in a fun-to-read way. This will give your reader a solid reason and keep them interested in reading through your entire post.
Here is how you can write a captivating blog post introduction;
· Address Your Readers from the Start
You want your audience to feel connected with your content, and you can achieve that by speaking directly to them. Ask your audience a question or use the word "YOU." This is a good blog writing tip to create an emotional bond with your audience that they cannot ignore.
· Identify your Audience Problem
Your every blog post should aim to solve your reader's problem, such as by informing, educating, or entertaining them. After all, who will read through your blog post if it isn't going to help them?
By identifying your audience's issue, they know that your content will help solve it, and that is going to keep them engaged.
5. The Writing Part
Finally, it's time for you to start writing your blog post. There're two main approaches that you can choose from when writing a blog post. You can either write an entire blog post in a single sitting or chip away at it gradually over time. Though both of these approaches are right, I would recommend getting as much done in a single sitting as possible. It will be easy for you to stay focused, eliminate the chance of forgetting the crucial points, and let yourself get the damned thing out of your hair faster.
But if you think your work is more effective in short bursts, try to boost the amount of writing you get done during those sessions. The more you revisit a draft, the more tempting it is, adding a little here and a little there, and before you notice it, you have gone wildly off-topic. So, make sure to get as much done as possible in a single sitting, even if you want to draft your blog post over two or three writing sessions.
Moreover, when you start writing your blog post, do not overlook your writing's tone and style. Both of these elements can make a significant impact. In this regard, a good blog writing tip is you should write it like you are having a conversation with your audience. It will make your readers feel they are having an actual conversation rather than reading a blog post.
Here is what you should include when writing a blog post;
· Write Short Sentences and Paragraphs
If you want your readers to read through your entire blog post, make sure to avoid giant walls of text. Formatting is incredibly important to keep your blog post interesting.  There is nothing worse than reading through a blog with just one enormous paragraph.
So, make sure to write short sentences and paragraphs that are easy to read. It will make your post more clear and easy to understand for your readers.
· Include Sub-Headings
I love including sub-headings in my posts. That is because sub-headings break your content up into easy-to-read parts. They are useful for both you and your audience. Sub-headings allow you to stay on track and organize when writing a blog post while helping your audience see the main points of your blog post.
· Include Bullet Points
Another good blog writing tip is to include bullet points. Whenever you have a list, instead of listing things in a sentence, use bullet points to make your message clear, precise, and easy to scan.
If you apply these blog writing tips to make your content compelling, your audience will be more likely to read through your entire blog post.
6. Include Images Effectively for Visual Engagement
Nobody wants an unattractive blog post. The inclusion of images can make a boring post more engaging and fun. Moreover, the human brain also processes visual content much faster than text-based content. That is why including high-quality captivating images can boost your engagement.
Here is why it is necessary to include images in your blog post;
· Visually Appealing
"A picture is worth a thousand clicks."
Adding an image makes your post look visually attractive, but this is true only if you use an image relevant to the topic. Your image should be relevant to your post context and should be somehow related as well.
· More Shares on Social Media
Social media users love sharing visual content. Adding images makes your audience share your content on social media, but it will also help you boost more traffic from social media platforms. However, you should keep in mind that nobody wants to make their social media wall look ugly. If you are not using high-quality images, they will not share them.
· Extends the Length of Your Post
Adding an image to your blog post extends its length to make it look lengthier. It does not increase the word count, though, but it helps make it look more comprehensive and detailed. If you write short blog posts, adding two or three images will make your post look much better.
7. Include a Captivating Call to Action (CTA)
Your blog post cannot be considered successful until you convince your audience to take action on the blog. That is why adding a CTA at the end of your blog post is essential. It indicates what you want your readers to do next – download an ebook, subscribe to your blog, register an account, leave a comment, buy your product, or read related articles.
A good blog writing tip is to stick to one CTA, so your audiences don't get distracted. You can make your CTA more interesting by putting yourself in the reader's shoes, explaining the benefits of taking action.
8. Include a Featured Image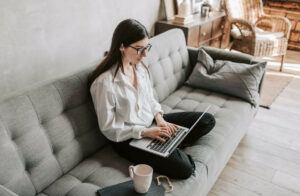 Believe me; your readers won't waste their time whether or not to click on your blog post if it doesn't have a featured image. If you want to seduce your audience to click on your post, you need to have a plan. In this regard, including a high-quality, visually appealing featured image to your blog post is a good blog writing tip to maximize clicks, shares, and engagement. The internet is overwhelmed with great platforms that you can use to find an attractive image, such as Unsplash, Shutterstock, Pixabay, etc.
9. Edit Your Blog Post
Crafting a blog post is hard, but editing it is harder. Editing your post doesn't mean simply fixing the grammatical errors or striking through sentences that don't work. Though both grammar and sentence structure is incredibly important, editing your blog post is about seeing it as a whole and sometimes being willing to sacrifice unnecessary words.
Some self-editing suggestions on how to improve your writing to keep your reader's scrolling include;
· Avoid Repetition
When you are done drafting your blog post, read through it to check for repeated words to replace to avoid repetition. It will make your blog more captivating and interesting for your readers.
· Read it Aloud to Check Flow.
Reading your blog post aloud to check flow is a fantastic blog writing tip that many blog writers learn in workshops. If a post reads awkwardly out loud, it will also read awkwardly in your reader's mind. Convince yourself to read your blog post aloud to check for contrived sentences.

· Ask Someone Else to Read Your Post
Asking for help from a colleague or friend to check your work is not a sign of weakness or failure. It is a commitment to make your work as effective as it possibly can be. Ask someone with some editing experience to proofread your work. Also, make sure that they understand you are not looking for help to catch typos or grammatical mistakes but want to know their thoughts on the flow and whether it makes sense structurally.
10. Optimize for SEO
The final good blog writing tip is to optimize your post for SEO.
If you can write compelling content, but it doesn't get any traffic, you are missing a crucial step. For your blog post to have a lot of traffic, you have to optimize it for SEO. In this regard, using the Yoast plug-in is a great way.
Make sure to add a target keyword, a title containing the keyword in it, an SEO title, and a Meta description. Moreover, make sure that your post is longer than 300 words (it should be at least 1000 words long).
Furthermore, the images in your post should also be SEO optimized. Ensure that they are right in size and have descriptive names before uploading them. For each image, assign an alt tag containing the focus keyword.
Final Thoughts
Writing a blog post is among those jobs that seem easy until you've to do it. Luckily, it does get more manageable, and with time, dedication, and practice, you will be blogging like a professional in no time. I hope the above guide about good blog writing tips will help you craft a thought-provoking and captivating blog post. If you've any specific queries related to blogging, feel free to let me know in the comment section. I will make sure to address them as best I can.
Would you like to learn to build an affiliate blog website?