==================
A Caveat and Affiliates
First off, a little caveat: within my articles you will find affiliate links, meaning if you buy them, I get a small commission. Your cost is not affected. In addition, I am an Amazon Associate and I earn from qualifying purchases on Amazon.
And yes, if I say that I recommend a product here, it means I truly believe it is a good product. I refuse to recommend any product that I have not researched and believe to be a good value.
Even better, I provide you with a very clear picture of the product, it's use, and the probable value.
Earning your trust is important to me. I run this website myself and the commissions and donations help support the site.
Sound reasonable and fair enough? Let's continue to the article.
==================
Your affiliate marketing strategy can only succeed with SEO. Search Engine Optimization (SEO) is a must since it will guarantee that your content will be helpful, informative, relevant, and rank higher in SERP. WordPress is a flexible open-source content management system great for affiliate marketing. One of the most widely used WordPress SEO plugins is Yoast SEO tools. This comprehensive SEO tool provides a variety of essential features for WordPress search engine optimization ranking.
In this article, we will walk you through different processes for utilizing Yoast SEO efficiently. From installing Yoast SEO to optimizing content. As well as how to use Yoast's advanced SEO features and alternatives.
To begin with, let's talk a bit more about Yoast SEO.
Yoast SEO is a WordPress plugin that helps you optimize your website's content and keywords to boost its search engine rankings. As a matter of fact, it is one of the most well-known WordPress SEO plugins. 
Although it can perform automatically, it still requires manual involvement and some preparation. Yoast SEO provides a plethora of features to help improve SEO. Some of these capabilities have an impact on the overall SEO of your site, while others assist you in optimizing specific articles and pages.
To have a better perspective of what the Yoast SEO plugin can do, let's take a peek at some of its four noteworthy features:
Content analysis –

specify a set of factors to guarantee that your content adheres to the finest on-page SEO standards. This will help you ensure that your content has the right number and suitably positioned emphasis keywords. The tool will also show you a color code to represent the amount of optimization, with green indicating optimal and orange for improvement, and red if you miss a lot of things. This provides you with a straightforward overview of the overall score as well as what you can still work on improving your rankings!
Snippet preview –

lets you view how your content will look at Google search results. It also allows you to edit the SEO title, slug, and meta description. Plus, you may customize both the desktop and mobile interfaces.
Readability Score –

seeks to assist users in creating well-structured and cohesive material. This is done by assessing a variety of parameters, including paragraph length and subsection placement. It determines if the information is digestible using a Flesch reading ease score. The plugin uses an algorithm to evaluate your text based on a number of factors that have been shown to make it easier to read. The preview also reviews the use of transition words, passive voice, and the length of sentences and paragraphs. 
Webmaster integration –

links your WordPress website to tools like Google Search Console, Bing, and Yandex. This helps determine how well your website ranks in search engine results. As a result, you can improve your SEO and make adjustments.
Based on the above information, Yoast recommends the best improvements to increase content visibility in order to optimize on-page SEO. These improvements are crucial for the three primary affiliate marketing channels: SEO, social media, and blogs.
Recent data on affiliate marketing indicate that blogging is the primary source of traffic generation for approximately 65% of marketers. SEO is used by another 69.22%, and social networking sites are used by 67.32%.
Surely, your website is already trying its best to take advantage of affiliate blogs, SEO, and social media content. However, before ranking websites in search engine results pages, search engines assess their structure and quality (SERPs). 
Websites that are well-structured and optimized are the only ones that have the highest chance of ranking higher. For this reason, it is critical to enhance your content for SEO. 
And despite having a default search engine-friendly functionality, WordPress still lacks the elements required to rank better on search pages. Thus, the Yoast SEO plugin is required to assist your WordPress site to perform exceptionally.
How to use Yoast SEO for Affiliate Website
Now you know why Yoast is a valuable asset. It's time to learn how to use it as an advantage for your affiliate website.
Improve On-Page SEO with Yoast
The majority of your optimization process will take place in the Meta Box. The meta box is under each of your blog posts and is also known as the content optimization tab. In this section, you can find the four essential features that were previously discussed:
focus phrase

SEO analysis, 

readability analysis

Google preview
Before you publish a post or page for your website, you should check these four elements first. We'll cover each essential feature one by one.
Optimizing Target Keyword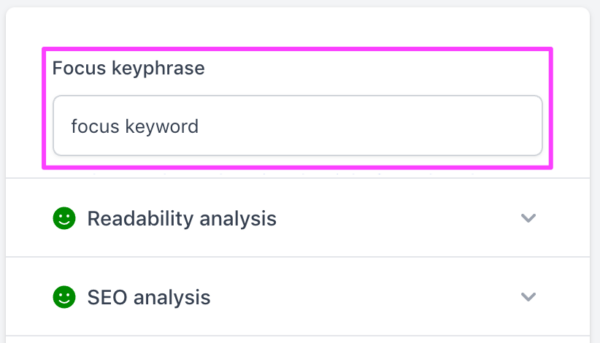 Using tools like Ahrefs or SEMrush to conduct keyword research is one of the best WordPress SEO practices. Finding organic keywords, analyzing search volume, and determining keyword difficulty are all made easier by these instruments.
Once you've completed your keyword research, you'll need to begin optimizing your site's pages and posts for the target keyword. The focus keyphrase tab is where you input the search term you want your blog posts or web pages to appear for in search engine results. 
In short, it's where you place your target keyword. It can either be a single word or a string of words. But having no more than five words is a general rule.
Your focus kephrase can be added at any time. Yet doing so right away is the easiest way to remind yourself of the primary focus of your content. You can even choose a keyphrase for each post individually. To take it up a notch, Yoast SEO Premium lets you add user-focused synonyms and related keyphrases.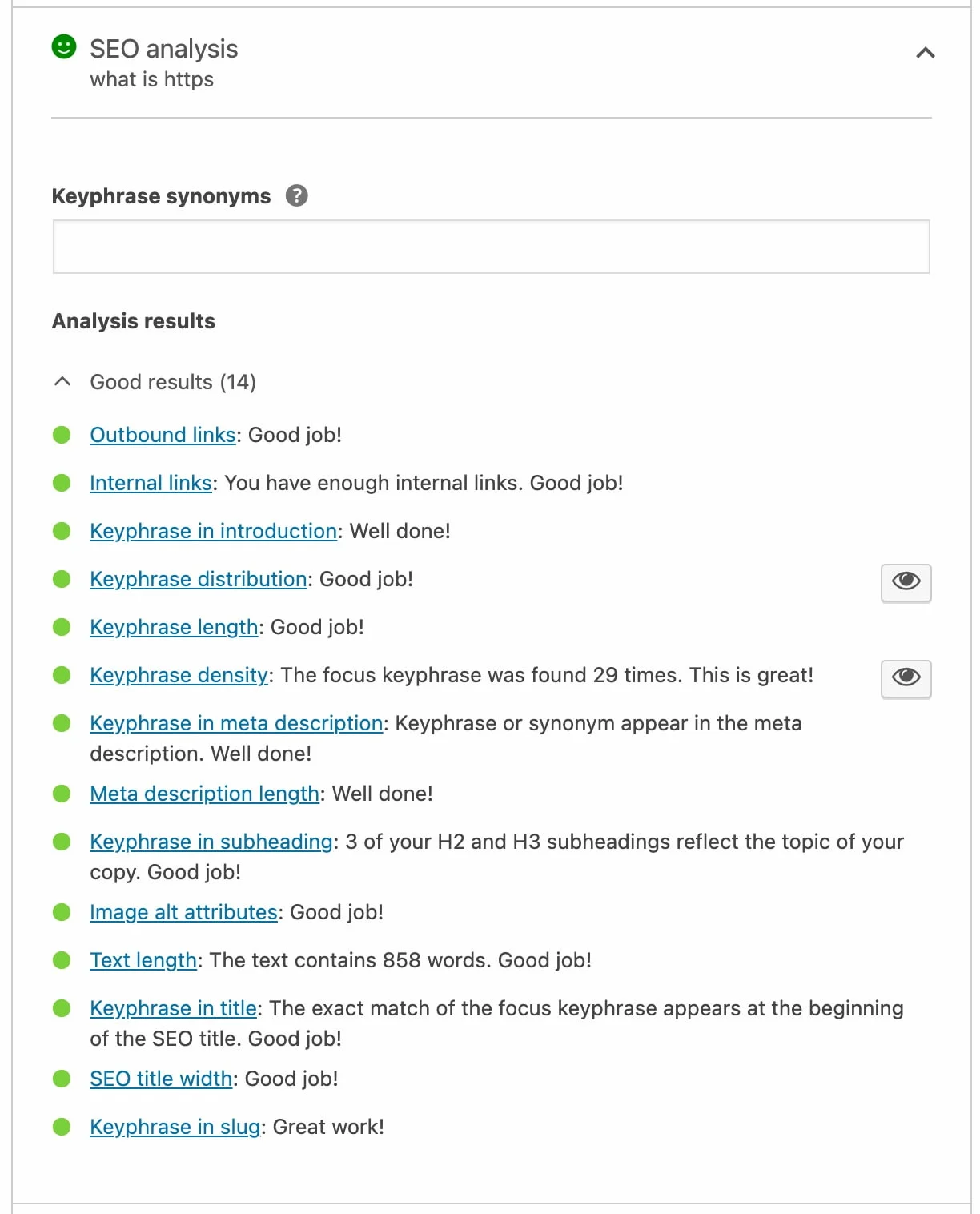 Once you enter your focus keyphrase, you will find the results and feedback in the SEO analysis section. The SEO analysis looks at the SEO-friendliness of your content and then shows you some results and feedback. 
For example, it checks to see if you've used the key frequently enough. It also considers if the keyphrase appears in your SEO title, meta description, photos, and subheadings. 
Furthermore, it examines other SEO features of your content that are unrelated to your keywords, such as if you have any internal links. Hover over the dropdown button to apply various suggestions for optimizing your content.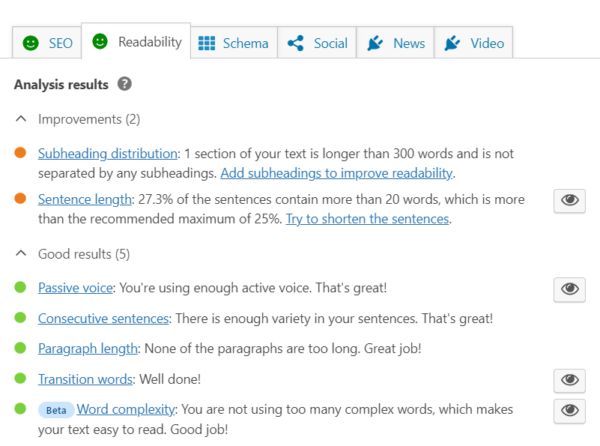 Just below the focus keyphrase tab is the readability analysis. This analysis includes a number of checks that our plugin runs automatically on your content. Depending on how well you can understand your writing, it will give you a red, orange, or green bullet. 
To find out how you did on each test individually and where you may still improve, open the tab. It's ideal to glance at this tab after you've finished writing the initial draft of your post or page. You might be wondering why you should even glance at this tab, but trust us when we say that readability is crucial to SEO.
Fun fact: Yoast SEO readability analysis is available in 19 different languages.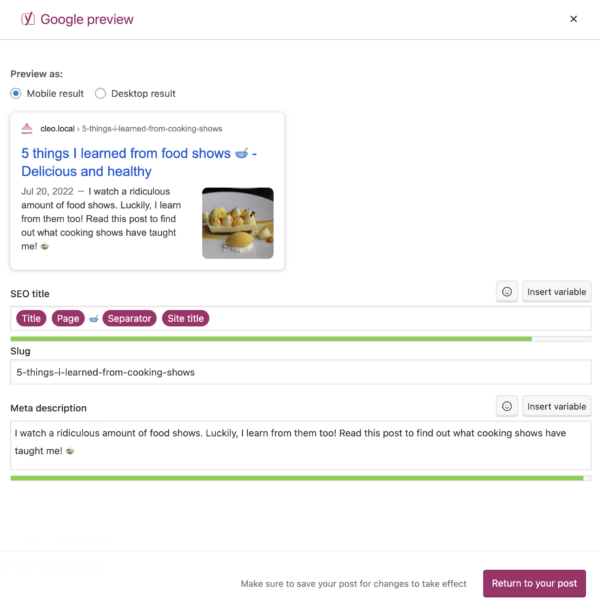 Optimizing your snippet preview to drive visitors to your website along with making your post engaging and clickable. For this matter, Yoast provides an editable snippet or Google preview in addition to content analysis. Google preview is located under the focus keyphrase section of the Meta Box.
Under the preview, you will see three elements:
SEO title.

the highlighted huge text, often known as the page title. Depending on your post settings, you may include a variety of elements in your SEO title. But the most important is using your focus keyword and keeping the title under 70 characters.

Slug.

a section of your URL that describes the content of your page. It is critical that your slug is user-friendly. Always use descriptive terms and include your focal key so that search engines and people can easily grasp your content.

Meta description.

a brief of the content that appears beneath the page title. If unoptimized, Google will simply take random bits of it or, on the other hand, bold a portion of your WordPress meta description that contains the focus keywords to increase the chances of clicks. Though we cannot guarantee that the exact meta description will appear in the search engine results. This, however, is a great suggestion for Google to use.
Also, be on the lookout for colors red, yellow, or green bars on each element. This will indicate if the snippet is good to go, or that it needs further improvement.
Promoting your affiliate website's content on social media is a common practice in digital marketing. This includes adjusting the way your content appears on multiple social networks in a critical manner. The best way to know the things to adjust is to use social media preview. 
Social preview depicts the appearance of your post when shared on social media. Before you publish your post, you can optimize the image, title, and description for Facebook and Twitter. With this, you can ensure that your material is visually appealing, includes interesting photos, and uses simple article titles. 
These are all the bare least you should create to improve your affiliate website. However, the meta box also has other things that you might want to check, such as internal and outbound linking ideas, Schema, cornerstone content, insights, and an advanced section. 
Besides what was mentioned, you also need to apply other best SEO practices using Yoast SEO, like using the redirects module to manage archive pages, prevent accidental duplicate content, and avoid 404 errors.  
Yoast SEO Installation and Configuration
Utterly, you can now improve your affiliate website using Yoast SEO, assuming you have the plugin downloaded and installed. If you have yet, we will walk you through it. 
Take note that this isn't a guide to every single detail of the plugin. We'll only be showing you the main things you should configure.
Installing the WordPress plugin is the first step. First, locate Yoast SEO in the WordPress plugin directory. 
Go to

Plugins

->

Add New

on your WordPress dashboard and type "

Yoast SEO

" into the search bar.
After clicking

Install Now

, wait for the installation process to finish. 
Next, select

Activate

. The SEO section will appear in the admin dashboard's left sidebar. You will use all of the features and perform all of the configurations here.
Note: If you have previously downloaded a different SEO plugin, you must first import data, settings, and configurations. 

You will need to configure the plugin after installing it. Fortunately, Yoast SEO offers a configuration tutorial to help you set up your WordPress site's basic SEO foundation. The workout has options for determining specific settings at each step. There are a number of advantages to setting up the configuration wizard, such as:
managing the search results content.

displaying accurate website metadata.

enhancing your brand's visibility.
Select the SEO tab from your admin dashboard to begin. The First-Time SEO Configuration section ought to be visible.
Click the link for the configuration wizard now. This will open a new page where you can set up your WordPress website's basic settings. Different sections of the Yoast SEO configuration wizard include:
Environment

Site Type

Organization or Person

Search Engine Visibility

Multiple Authors

Title Settings
To restore or modify your configuration wizard settings, go to the general settings tab. Users have the option to enable or disable some of the provided settings. The options on the General tab are as follows: 
Dash Board.

To change the settings, you can check again and reopen the configuration wizard from here. Additionally, there is a Problem section that displays any issues with your website. In addition, the Notifications section contains the most recent information and updates.
Features.

This section lists every feature of the Yoast SEO plugin, including XML sitemaps, cornerstone content, and readability analysis. Depending on your objectives, you are free to disable or enable them. Click the question mark icon next to each feature for more details.
Webmaster tools.

Several aspects of your website, including traffic, performance, and memory, can be monitored with the assistance of webmaster tool accounts. This data helps determine how well your website ranks in the SERPs. This section can use a variety of tools, including Google Search Console, Yandex, Baidu, and Bing, to verify your website. Simply disregard this section if your website has already been verified.
#4 Search Appearance Modifications
The way your website appears on the pages of search results is known as search appearance. This setting is included in the configuration wizard, but you can change it on a separate tab. The search Appearance section has different tabs available: 
General.

The meta description and title separator are among the fundamental configuration wizard settings found on this tab. Additionally, you can include additional data for Google's Knowledge Graph.

Types of Content.

This section's Yoast settings let you choose which content types and default descriptions to show in the search results. Yoast SEO displays posts with the article schema and pages with the webpage schema by default. However, you are free to alter these predefined settings as necessary.

Media.

It is best to keep this in the default settings. Google will be able to direct visitors who click on the media attachments to your website posts if you do this.

Taxonomies for WP.

The title and meta description template for your post categories and tags can be customized with the assistance of this section. Consequently, making it simpler for Google to display your posts whenever users have a specific intent to search.

Archives.

Find out how various kinds of archives are managed. For a one-person website, turn off the author archives to avoid duplicate content. On the other hand, if you have multiple authors, feel free to activate the settings and modify them.

Breadcrumbs.

Your visitors will have an easier time comprehending the structure of your website if this setting is enabled. Additionally, breadcrumbs web crawlers in indexing your website.

RSS.

Your content can't be republished without credit and permission thanks to these settings. When your blog post is republished, the RSS feed will include a link to your website beneath the content.
#5 XML Site Map Integration
An XML sitemap is vital for enhancing the SEO of your website. This file helps search engines comprehend your site structure by identifying all of your relevant pages and acting as a map. Sitemaps help search engines understand your website's content and determine the most important portions. As a result, it is simple to assist web crawlers in finding relevant content on your website.
You may not only produce an XML sitemap with the Yoast plugin, but you can also choose what to include or exclude from the file. To remove specific content categories from sitemaps, for example, just click a button on the Yoast dashboard.
The Yoast plugin's primary and essential configurations should all be set at this point. With that in mind, it's time to learn about how to use Yoast SEO on your WordPress affiliate website.
Overall, Yoast SEO brings a lot of features. However, not everyone can use it, which is why we will look at seven alternatives to find a suitable option. 
01. All-in-One SEO Pack
All in One SEO Pack offers a user experience that is very similar to that of Yoast SEO, with a number of features that will help improve your site's SEO. Some people prefer it because it has a setup wizard and settings on one page, which is preferable to plugins with multiple configuration areas (like Yoast). A clear reason why it is a common alternative to Yoast SEO.
02. SEOPress
SEOPress is also a popular Yoast SEO alternative plugin. A white-label WordPress SEO plugin, SEOPress can quickly make your website stand out in the SERPs. Efficient for bloggers, small businesses, agencies, and SEO experts, among other businesses. Users of the plugin will have access to an improved user experience, an intuitive interface, an analysis of posts and pages, and suggestions for enhancements.
03. SEOPressor
A powerful SEO solution is available from SEOPressor. It has a user-friendly interface and a lot of features for customizing and optimizing. With a dashboard that makes it simple to see all of your SEO data in one place and quickly find and fix any issues.
In addition, it provides you with a percentage SEO score and the ability to target up to three keywords per post or page to ensure well-optimized content. A keyword over-optimization warning and automated smart links are two other unique features. Sadly, there is no free version, and it is only available as a premium plugin.
04. WP Meta SEO
WP Meta SEO is one of the best beginner-friendly Yoast SEO alternatives. Keyword suggestions, an automated XML sitemap generator, and bulk editing of meta and image tags are among the simple yet effective features. 
An easy-to-use interface provides suggestions for on-page SEO. You can get basic data about each problem and how to fix it by just hovering your mouse over it. Additionally, it has a one-of-a-kind connection to Google Search Console, allowing you to access useful Google website data and recommendations directly within the plugin.
05. Rank Math
Rank Math, known as the "Swiss Army Knife of WordPress SEO," is a highly recommended alternative to Yoast SEO. You will save a lot of time thanks to its intelligent automation and website analyzing features. A user-friendly design and setup wizard makes implementing Rank Math and optimizing your website simple.
Rank Math allows you to optimize for an unlimited number of keywords, unlike Yoast which only allows you to target a single feature keyword in your posts or pages. Plus, it now includes an LSI keyword tool, Google Analytics, Console integration, and rich snippets support for more than 16 different types of schema markup.
06. Squirrly SEO
Squirrly SEO is a useful WordPress plugin that will assist you in enhancing your SEO for all of your content, posts, pages, and even WooCommerce products. It will walk users through the process of fully optimizing their website for search engines using a variety of assistant and auditing tools. In order to ensure that you get the most out of this SEO plugin, users will have access to an impressive knowledge base and support forums.
Additionally, an AI consultant will offer advice on how to further enhance the SEO of your website. People who don't have a lot of time to spend learning the ins and outs of SEO will appreciate the time-saving automation and AI features.
07. The SEO Framework
Another AI-powered WordPress SEO plug-in is The SEO Framework. This SEO WordPress plugin, which is free, dependable, and rigorously optimized, offers an automated solution to optimizing your posts and pages for search engines. Users can also configure the hundreds of SEO settings that are available manually.
When compared to other plugins, this one performs manual analysis and optimization in more aspects of your website. Besides that, it also automatically generates page titles and descriptions that Google will undoubtedly recognize. It comes preconfigured, but you can change the settings to suit your needs. If you don't want to, the built-in intelligence automatically optimizes the pages of your website.
08. Premium SEO Pack 
Our list of alternatives to the Yoast SEO plugin includes the Premium SEO Pack, which is yet another strong contender. The plugin is available in two versions: a free one and a paid one. Both versions have a lot of features for people who are new to WordPress or have used it before.
One downside to note is the need to have Squirrly.co registration. However, once the registration process is completed, you will be presented with a dashboard that has been thoughtfully designed and features easy access to all the plugin's features. Notable features include: 
backlink builder

redirect tool

tools for Google Analytics,

tools for social media, 

file editor

minifying tool
The mass optimization tool deserves special attention. With this, you can optimize all of your pages and posts with titles, descriptions, and keywords in one go. While this is helpful for new websites, more established ones will want to optimize each page separately.
09. Slim SEO
Slim SEO is a user-friendly WordPress SEO plugin fantastic for beginners. In comparison to other options, it is relatively new and offers fewer features. However, it is gaining popularity among novices due to a lack of understanding of SEO terms and best practices. 
As a result, Slim SEO ensures that optimizing for SEO does not require any effort on your part. So even though Slim SEO does not have the same number of features as Yoast SEO, it is still adequate for beginning users.
10. GrowthBar SEO
The best tool for bloggers and content creators is GrowthBar. You can use it in a web browser, as a WordPress plugin, or get instant SEO insights with the Chrome Extension. It has a blog ideas generator, a one-click blog post outline generator, competitive metrics, keyword tracking, and keyword research. Naturally, it also lets you use natural language AI to write lengthy blog posts.
Yoast is a must-have plugin for every affiliate website owner looking to improve their search engine visibility. In this post, we went through all the meaty ways how to squeeze out Yoast SEO's advantages. 
By utilizing the plugin on a regular basis, you'll begin to upscale your affiliate marketing website. Combining this plugin with a keyword and content strategy is the formula for ranking first in search results.
Read More:
Is Yoast SEO actually effective?
If we look into statistics, we can conclude that Yoast is an effective plug-in. With over 11 million downloads and 5 out of 5 reviews, Yoast SEO is one of the most widely used SEO plugins for WordPress.
How long does Yoast SEO take to work?
Between three and six months
The answer to this query might vary according to the numerous various SEO methods. It's reasonable to conclude that after three to six months, a website will start to experience a rise in organic traffic.
How can I get free access to Yoast SEO?
There is a free and paid version of Yoast SEO, so you don't have to pay if you don't need all the features or just want to try the plugin out.
Can Yoast be used on more than one site?
Yoast SEO can be used on multiple websites via WordPress multisite or multiple subscription purchases.
Is there an affiliate program at Yoast?
Currently, Yoast doesn't have a reseller or an affiliate program. However, we are constantly open to new partnerships. Feel free to contact Yoast at vipyoast.com if you have a suggestion or are interested in engaging in partnerships.